After being in this business for over ten years, I could probably fill a book with what I've written concerning cars and the automotive industry, and perhaps one day I may just do that. However, below you'll find a sample or two of my work, simply to give you a general feel for who I am and what it is I actually do.

Simply purrfect! - 2012 Jaguar XJL Portfolio Edition Review
By Kevin ''Crash'' Corrigan
(First Published on
www.auto123.com
)... and it's my favorite!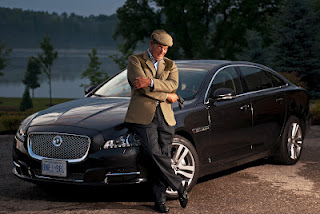 The very first car I ever rode in was a Jaguar. In fact, I arrived home from the hospital closeted in the sumptuous leather seating of a proudly British-built Mk I. Of course, I can't recall with any particular clarity that epic occasion. However, I can remember being chauffeured to my very first day of school in a Cornish Grey Mk II. Yes, while other offspring whimpered at the very thought of relinquishing the security of their mother's bosom, I was already well on my way to becoming what Jeremy Clarkson might describe as a "Jaaaag man."

Of course, those were the days when a stylish automobile said something about its owner and those who rode in the rear seat. A Rolls-Royce portrayed money and upper-class sophistication. A Rover/Mercedes-Benz announced your career as a Bank Manager or a Chartered Accountant and the Jaguar informed the general public that you were either a successful businessman on the move, or that you'd just held up the local bank in the high street!

Yes, back in those days a Jaguar was just about the fastest thing on four wheels, which is why the criminal fraternity loved to steal them for use as getaway cars. "Grace, Space & Pace" was the company's slogan, and there probably hasn't been a better suited description of an automobile manufacturer since.

Back then, no one would dream of uttering the name of a German car manufacturer in the same breath as Jaguar; the company was in a class of its own. So, what went wrong?

Well, although I've owned numerous Jaguars over the years and, as a Land Rover/Jaguar technician, worked on thousands, for me to answer that question would involve several hundred pages and a considerable amount of patience on your part, so that's not going to happen today!

However, if you read my review of the 2012 Jaguar XJL Portfolio (below), you'll discover why I'm now saying: look out BMW, watch your back Mercedes, start looking over your shoulder Bentley, because the cat is back and it's coming at you, claws out!



I couldn't believe my luck when told I had this vehicle to review. Having been out of the Jaguar world for over a decade, ever since the new XJ was launched, I've wanted to get my hands on one and pull it to pieces.

You see, I'm an old-school Jaguar man, one who firmly believes in tradition. So when I climb behind the wheel of Coventry's finest, I want to be surrounded by acres of woodland, herds of premium cow-coats, and I'll live with the odd oil leak if the engine sounds like the London Philharmonic playing "Land of Hope & Glory."

Yes, so long as it sports the sexiest logo in the business and spins the heads of female airline service personnel, I'll quite happily forgive one or two minor failings. After all, that's what being a Jaaaag man is all about.

Of course now, having driven the vehicle for a few days, I'm starting to realize just how idiotic I must sound. Why? Well, because this car is nothing like what I had expected or was led to believe it would be. For a start, with Jaguar recently being placed second only to Lexus in J.D. Power's 2012 Initial Quality Study, I can forget the oil-slick jokes and my comical antidotes from the days when I worked on these vehicles for a living.

I'd also heard tell of Jaguar ditching its old customer base in favour of luring young iPad-clutching youngsters, and that's proven somewhat wide of the mark, too. What the company has actually gone and done is simply widen its catchment net with the aim of attracting everyone!

A Jag for the ages
The woodwork in the new XJ is simply stunning. In fact, as the owner of a gracefully aging Bentley, I did start to wonder whether Jaguar hadn't rung around a few of its old villainous friends (all the best London gangsters drove Jags in the 50s/60s!) and set them the task of breaking into Crewe and stealing some of the interiors aimed for the flying B brand.

Not only that, but there's chrome in there too! Did you hear me, chrome! Come on now, I'd thought just about everyone had bought into the car companies' patter: chrome is old-fashioned today and the brushed aluminum, Coke-can finish can look every bit as good. No it doesn't!

Wood, leather and chrome is what I want to find in a luxury automobile. I want my vehicle to appear more inviting than the finest room in my house. I don't want to open the door to my car and invite friends to step into my modernized bathroom or stainless steel kitchen!

No problem with today's XJ then, as its designers have achieved an amazing feat. They have somehow managed to blend old-school tradition with new-school technology and have achieved this to such an extent that it's almost impossible to see where one starts and the other ends.

Gadgets galore
Speaking of which, gently press the small start button on the dashboard (which FYI, was made famous by Jaguar in the '60s), and magical things start to happen. A submerged chrome turn-dial smoothly rises up from the centre console allowing the driver access to both forward & reverse gears. Now, how clever and 21st century is that? After all, why fiddle with a movable stick when paddle shifters (love them or hate them) are the future?

Of course, it's around about this time when you start to realize just how bang-up-to-date this vehicle is, as although the display may appear vaguely like a traditional dash, it is anything but. The sexy cat logo remains on the display for a split second or two once you power-up, simply and for no other reason than to remind oneself of being a Jaaaag owner.

Then as quick as it appeared, it's replaced with a modern interpretation of what a driver information pod should look like today. The same occurs on the centre stack which is home to the 600-watt premium audio and navigation system with HDD. The whole thing is voice-controllable, and there's even a seat massage system for both driver and passenger. Now, that's precisely what we Jaaaag men have been waiting for… "Fancy a quick massage in the old Jaaaag?"

Feline fancies
On the road, the XJL purrs like a kitten. The supercharged 5.0L DOHC 32-valve V8 serves up oodles of power (385 hp), and a quick press of the Sport button turns your fluffy feline friend into a scalded cat! You can feel each paw as it claws away at the tarmac, and yet the company has kindly thought to provide the beast with cushioned booties. At least that's what it feels like while holding the luxurious wood and leather steering wheel.

It is a phenomenal vehicle in every sense of the word to look at, to ride in and to drive. All in all, I'm totally disgusted with the company. There was I, looking forward to ripping my teeth into its latest offering. I wanted to relate tales of oily patches in my driveway and I'd been practicing all my Joseph Lucas (Prince of Darkness) jokes. How dare they do this to me!

Welcome to the 21st Century Jaguar
Of course, there is an upside to all of this, I suppose. With the company finally entering the 21st century, it's going to open up a whole new era of Jaguar ownership. Yes, the days of tweed sports jackets and cloth caps may be in the past, but that doesn't mean I can't help acclimatize one or two new owners into the brand's culture. So repeat after me, and with you most caddish-sounding British accent: "Well actually, I drive a Jaaaag."



Here's another sampling first published in 2014 on www.painkillerz.ca

There's no such thing as a used car!
By Kevin "Crash" Corrigan
I'll bet, not a single one of you reading this has ever purchased a used car.
Sure, you may well have ventured out seeking a fine used automobile, but I'll guarantee you, not one of you ever drove home in that vehicle and rushed indoors yelling, come outside and see my "Used Car!".
No, it doesn't matter how rusty it was, or whether the front wheels were about to fall off, you had actually just purchased your "New Car"!
I bought and sold my first car back when I was 11 years old. It was an Austin Mini (the van version) which served me well on the farm until I restyled the front fender around the corner of our barn. Fortunately for me, my elderly Grandmother stumped up the cash for it and used her persuasive charms to haggle the price down, so her 5 pound (UK) investment turned into a 20 pound sale even with its slightly-modified bodywork.
Now I don't know if it was this profit margin which spurned me on, or her "I'm on a fixed pension and simply want to help my Grandson purchase his first car" bargaining patter, but this experience dramatically changed my life.
I went on to take a mechanical apprenticeship at 16, refurbishing ex-British military Land Rovers, which we then sold onto local farmers. During this time, my boss discovered my natural aptitude toward vehicle sales, which included finding the steepest piece of land around and yelling "watch this!"
Since then, I've spent nearly 30 years in the motor trade. I've wholesaled vehicles auction-to-auction, sold new & previously cherished vehicles and enjoyed being the General Manager of 3 public car auctions. With additional stints in auto show preparation for the manufacturers, as Manager for the largest towing company in Canada, together with running my own LR/Jag workshop, it could be said that I've learned a thing or two about vehicles along the way. So here are a few helpful hints on purchasing your next slightly-used-but-not-abused "new car".

Where to purchase…
New Car Dealerships
New car dealerships often carry a wide selection of used vehicles. These can include everything from trade-ins to cars specifically bought in for resale (oh yes, some do that). Several manufacturers now have Certified Used Vehicle programs designed to take some of the worry out of purchasing a used automobile. These vehicles generally go through a multi-point inspection program approved by the manufacturer. As such, buyers can be confident in knowing these vehicles have been inspected/approved by technicians highly familiar with the brand, to the point where both the dealer & manufacturer place their reputations on the product. This is a good way to purchase a quality used vehicle if you don't mind paying a little more, as most dealers simply auction/wholesale vehicles which fail to meet their "certified" standards.
Used Vehicle lots
Oh yes, we've all heard the horror stories told about these places! Buyer beware, and warranties which last until the vehicle's makes it off the lot, if indeed it makes it that far!
However, I know this industry and a lot of the guys who work in it and, with the odd exception, they aren't as scary as some would have you believe. There's a lot of government rules & regulations covering the used vehicle market today, and it's a lot safer place to shop than back in your grandfather's day.
Selection is often better on the larger lots, but don't rule out the little guy who specializes in one particular marque or segment of the market. These guys often know their chosen product well and this includes what not to buy, and what it takes to place a vehicle back in serviceable condition.
There are deals to be had on these independent lots but it pays to do a little homework of the dealership and a recommendation from a family member or friend never goes amiss.
Car Auctions
Now we're in my favorite territory, but buyers need to have their wits about them here and, if you know zilch about cars, then this is probably not the ideal place to go shopping for one!
However, there are deals galore to be had at car auctions, providing you follow a few simple guidelines… Check out your chosen vehicle well in advance (arrive early!). Make a decision on what the vehicle is worth to you and then stick to that figure - I always carry a couple of hundred bucks (mad money) because it's almost impossible to follow this rule. But when my mad money is spent, I walk away and never look back!
Stand close to the car during the sale and keep a constant eye on the auctioneer, and the audience. There's a good reason for this… Only it has been known for auctioneers to occasionally get confused and take a bid from Mr or Mrs Nobody. Look at it like this, wholesalers often enter vehicles into public auctions, mostly amassed from dealer trade-ins. These guys aren't necessarily looking to make huge profits because, if they've purchased several vehicles during the week, a small profit from each keeps bread on the table. However, if you're the only person with eyes on their vehicle, can you really expect the hammer man to sell you their vehicle for your opening bid of $50? Be realistic – expect a deal at an auction, but don't expect a Ferrari for $500.
Auto Trader, Kijiji and alike – The Private sale!
I've sourced some of my best deals from classified ads and I've purchased 1000s of vehicles over the years. However, it's a little like crossing a cow field in your Sunday best shoes. You need to keep your ears & eyes open for surprises, and you have to watch out for those rear-end ground deposits from the Bull.
Yes, we've all heard tales of "curb-siders" and two cars welded together as one. On the flip side, I could tell tales of buying Granddad's one-owner special, and the vast number of times I've scooped a deal because the buyer simply needed some quick cash. Which brings us nicely to my next bit of advice – Always carry cold hard currency of the realm, as money talks much louder than good intentions. If/when a deal is made, leave a sizeable deposit, get a written receipt, and collect your new vehicle as soon as humanly possible.
A few General Rules
The days of tampering with mileage (spinning/clocking) are mostly gone, what with the tracking now done by ministry offices and dealerships. However, I did say mostly, so always pay close attention to the wear patterns on certain items – the steering wheel, the gearshift, the pedal rubbers, seat belts etc. If the clock says 50,000 carefully driven miles, yet these parts seem unduly worn, walk away!
Now my last piece of advice is perhaps the most important tip I will present to you, and you need to remember this, even if you've forgotten everything else I've said – I WOULDN'T TRUST MY GRANDMOTHER'S WORD WHEN BUYING A USED CAR (after all, she did talk that guy into selling his Mini for next to nothing!). No, the only person to trust is yourself. If you get a gut feeling that the deal is wrong, then simply walk away (and this applies to all/every sale, dealerships/auctions/private).
Now obviously, I can't cover the entire car buying game here with limited words, but as you're now all personal friends of mine, please feel free to email me at crash@crashcorrigan.ca with any questions you may have.
So happy shopping, and buy smart!
Crash
and a few more just in case...
http://painkillerz.ca/magazine.php?id=1907
(The New Jaguar F-Type)
http://painkillerz.ca/magazine.php?id=1908
(The 2015 Nissan Micra)
http://painkillerz.ca/magazine.php?id=1913
(Commercial vans)
http://painkillerz.ca/magazine.php?id=1933
(Roundabouts)
http://www.auto123.com/en/news/my-wallet-got-raped-by-a-raptor/28234/

http://www.auto123.com/en/news/car-shows-arent-what-they-used-to-be/28228/
http://www.auto123.com/en/news/ex-land-rover-tech-takes-on-the-lr4/28230/
http://www.auto123.com/en/car-reviews/2013-mercedes-benz-sl-550-first-mpressions/28218/
http://www.auto123.com/en/news/bentley-wo-would-be-proud-video/28142/